Image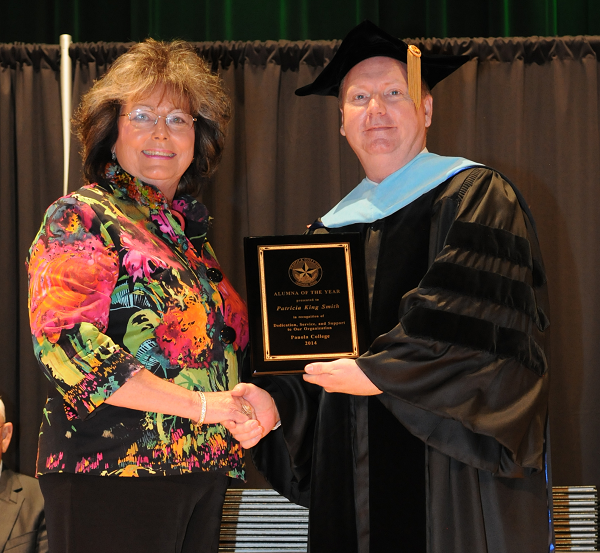 Patricia King Smith
The Panola College Alumni Association is proud to announce the selection of Mrs. Patricia King Smith as the 2014 Panola College Alumna of the Year. Smith was recognized at the Panola College graduation ceremony held on Friday, May 9, at 7pm in the Carthage Civic Center. Mrs. Patricia King Smith is a 1966 graduate of Beckville High School. Following graduation she attended Panola College and graduated in 1968 with an associate of arts degree. 
Since 2001, Patricia has served several terms as a member of the Panola college Foundation Board. She has served in many capacities on the Board including secretary six times, vice chair, and chair of the Board in 2003 through 2005. Mrs. Smith was selected as Panola College's Alumna of the Year because of her dedication to Panola College and Panola County. She has spent many hours working to better the College and to truly make a difference in the lives of students at Panola College. Under her leadership and continued efforts, money was raised to allow grants to be awarded for faculty to improve instruction and the education experience. 
Patricia has been the owner of Beauty Sense by Patricia since 1985. She has been actively involved in the Panola County Chamber of Commerce having served as president and member. She has served as an active member of the chamber of Commerce Ambassadors and also president. She served on the ETMC Carthage board of directors. She is a Panola Heritage Foundation member on the Texas Country Music Hall of Fame board. She is a member of First United Methodist Church of Carthage and a member of Beta Sigma Phi Service Sorority. 
One of her accomplishments she is most proud of is being Co-chair of Putting Christmas Lights around town as a memorial and honoree of loved ones. Patricia has been married to Don Smith for 45 years, and they have one son, Chad Smith, and 4 grandchildren: Seth, Sawyer, Sheppard, and Stella.