Image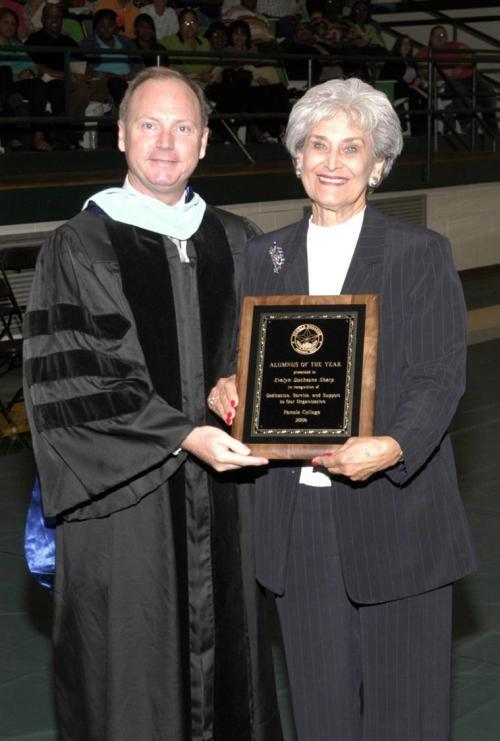 Evelyn D. Sharp
On May 19, Dr. Gregory Powell, President of Panola College, announced that Mrs. Evelyn Duchesne Sharp had been selected by the Panola College Alumni Association as the 2006 Alumnus of the Year. Mrs. Sharp was recognized for her devoted leadership, service, and financial support to the institution. Her experience as a Panola College student and later as a member of the Board of Trustees has given her a depth and breadth of knowledge that has guided the College for more than 15 years.
Mrs. Evelyn Sharp was born in Richland Parish, Louisiana on March 7, 1935 to Charlie and Mary Duchesne. She had one sibling, Murlene Duchesne Dobson. The Duchesne family moved to Carthage in 1944, where Charlie Duchesne was employed by United Gas Company. He was working in the gas plant when the first valve was turned on to start the operation of the new plant, and he retired in 1976 from United Gas Company when the last valve was turned off and the plant closed.
Evelyn Sharp graduated from Carthage High School in 1953 and was the class salutatorian.
While attending Carthage High School, she was a Band Majorette and a Drum Major.
The Duchesnes watched Panola College being built in the 1940s and supported Murlene's and Evelyn's desire to continue their education following graduation from Carthage High School. Charlie and Mary Duchesne knew that Panola College would provide an affordable education for their daughters.                                                            
In the fall of 1953, Evelyn attended Panola Junior College on a full scholarship. Later that year she married James Sharp, son of Lawrence R. and Debbie Sharp. Mr. L. R. Sharp was the first history and government teacher at the College. From Panola College, Evelyn went on to earn a Bachelor of Science degree in Elementary Education in 1969, a Master of Education degree in 1980, and a Supervision Certification in 1981.
Mrs. Sharp worked at the First State Bank & Trust Company from 1960 to 1965 when the Sun Oil Company transferred Mr. Sharp to McAllen, Texas. During their stay in the Valley, Mrs. Sharp was hired as an elementary school teacher by the McAllen ISD. She worked as a teacher from 1969 to1980. In 1980 she was promoted to supervisor and served in that position until 1984. From 1981 to 1984 she also worked as a part-time summer instructor at the University of Texas Pan American where she taught graduate and under graduate courses.
Mr. Sharp retired from the Sun Oil Company in 1984, and the Sharp family returned home to Carthage. That same year Mrs. Sharp began teaching at Carthage Libby Elementary School. She worked there until 1987 when she retired so that she could travel with James.
Mrs. Sharp's devotion to education led her to Panola College in November of 1991, when she agreed to fill a vacancy on the Panola College Board of Trustees. In 1992 she was elected to complete the term of Place 2 on the Board. Mrs. Sharp was re-elected to the Board in 1994, 2000, and again in 2006.
Mrs. Sharp also served as an officer and board member of the Panola College Alumni Association for several years. The Sharp family has also endowed several scholarships at Panola College and has provided financial support to the planned expansion of the M. P. Baker Library.
"Service to the Alumni Association and as a member of the Board of Trustees has afforded me the opportunity to give back to this College," said Mrs. Sharp. "The personal attention I was given as a freshman at Panola College made a lasting impression. From its humble beginning with very few students, the College has grown to over 1,900 students. In spite of this growth the faculty and staff continue to provide students with the same consideration I experienced."
"We owe a debt of gratitude to those "forward-thinking" individuals in the early 1940's who saw the need to establish a local community college. This College has been very important to many individuals and businesses in Panola County and throughout our area and state," said Sharp.                      
James and Evelyn Sharp are the proud parents of two sons, Ty and Kent. Both are Certified Public Accountants; three grandchildren, and one great grandson.