Image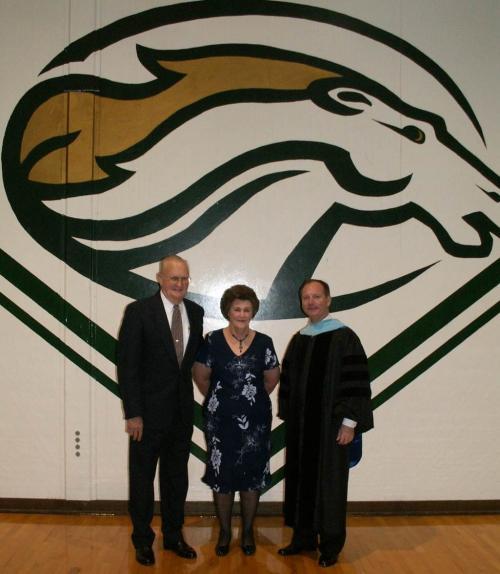 Joe Lawless
On May 13, Dr. Gregory Powell, President of Panola College, announced that Mr. Joe Lawless had been selected by the Panola College Alumni Association as the 2005 Alumnus of the Year. Mr. Lawless has been involved almost from its inception with Panola College and has proven himself to be a true friend of the institution.
Mr. Lawless served from 1997 to 2003 on the Panola College Alumni Association Board. He and his family have endowed numerous scholarships to benefit the next generation of Panola College students and most recently, Lawless assisted Panola College with its capital campaign to raise money to expand the M. P. Baker Library.
Joe Lawless was born July 15, 1929, in Pinehill, TX just a few miles west of Panola County. He grew up in and around Northeast TX and Northwest LA., beginning elementary school in Price (Carlisle), TX in 1935 and completing high school in Greenwood, LA in 1946.
Lawless worked in the oilfields as a roughneck, and in construction as an ironworker until 1949 when he enrolled at Panola College. That year, Joe and 197 other students enrolled at the fledgling institution.
Joe was a good student and active in a variety of campus activities. As a member of the 1950 Men's Basketball team, Lawless, playing Center position, helped the Ponies defeat the State Champion Lon Morris Bearkats by a score of 55-45. Lawless was also the Business Manger for The Pony, Panola College's annual yearbook. In 1950, The Pony staff produced the College's first yearbook.
In the fall of 1950, 178 students enrolled for classes. That year Lawless served as class president. When asked to comment, Lawless said, "I was president of the graduating class in 1951. I can well remember because I had to give a speech graduation night. E.M. Adams wrote it for me, and I memorized it word for word. I even practiced it on our chickens out in the chicken yard. I was scared to death but made it through OK."
After graduating from Panola College, Mr. Lawless continued his education at Louisiana Tech where he earned a BS degree in Mechanical Engineering in 1954. While at LA Tech he was inducted into the Engineering Honor Society, Tau Beta Pi. Tau Beta Pi is the only engineering honor society representing the entire engineering profession. It is the nation's second-oldest honor society, founded at Lehigh University in 1885 to recognize students of distinguished scholarship and exemplary character.
Lawless was also invited to join Phi Kappa Phi, an honor society that draws its members from all academic disciplines within colleges and universities. It is a more than 100-year-old organization made up of the best and brightest from all academic disciplines.
In June, 1954 Lawless began work for Humble Oil and Refining Co in East Texas. He spent 32 years as an Engineer and Operations Supervisor before retiring in August, 1986 and moving to Grand Isle, LA. Later he moved back to his native roots at DeBerry, TX.
In 1989, Lawless was called back into service as a consultant for Exxon during the oil spill cleanup in Alaska. Lawless has spent about 75% of the last 19 years consulting with Exxon, now ExxonMobil, in Alaska, Egypt, California, Norway, Holland, West Africa, Australia, and Houston.
Lawless has been married to wife Amy Eaves since 1952. They have one son, one daughter-in-law, two grandsons, and two granddaughters-in-law. Their grandson Craig Michael and his wife Tiffany Collins Lawless are recent graduates of Panola.