Image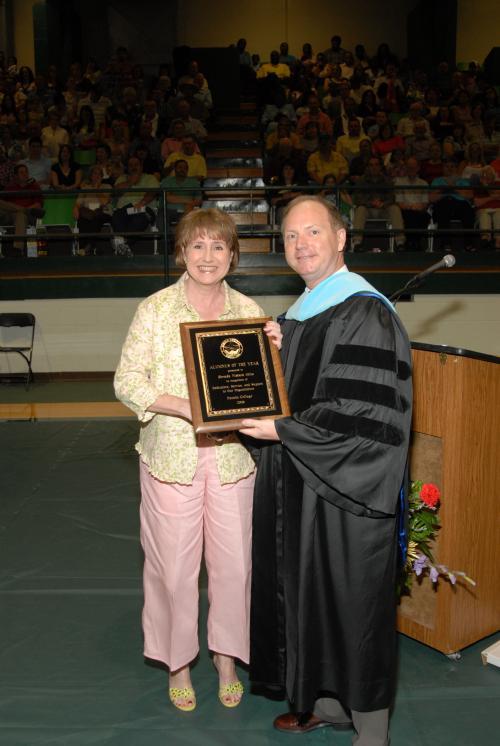 Brenda Giles
At this year's commencement exercise Dr. Gregory Powell, President of Panola College, announced that Brenda Giles had been selected as the 2008 Panola College Alumnus of the Year. Brenda is a member of the Class of 1974 and was chosen because of her passion to see Panola College, and particularly the Alumni Association, grow.
Brenda has served on the Alumni Association Board in many capacities. In 1999 she was nominated to serve as a Board Member. In 2001 she was asked to serve as the Vice President and in 2003 she was elected President of the Association. She is currently serving her third term as President.
"It didn't surprise me that Brenda was selected as this year's recipient," said Mr. Van Patterson, Director of Institutional Advancement. "The Alumni Association has seen growth and change under her leadership. In the past alumni could only join the association on an annual basis. Thanks to Brenda's efforts we now offer alumni the opportunity to purchase a lifetime membership. Those who purchase lifetime memberships receive a subscription to the College Newspaper, The Pony Express, an individual lifetime pass to all Panola College Ponies and Fillies home games, admission to the M. P. Baker Library with internet privileges, and access to the Panola College Career Information Center."
The Alumni Association under Brenda's leadership made it a goal to see that the Spirit of Panola statue project was completed. She and her administration became strong and vocal advocates for the project. Eventually the Association was able to contribute several thousand dollars to the project.
Most recently, Mrs. Giles and her sixth grade P.A.C.E. (Panola Acknowledging College's Expansion) Class raised more than $3,850 to help Panola College complete the M. P. Baker Library expansion project. "It was inspiring, the amount of work Mrs. Giles and her class put forth," said Patterson. "They organized a soup and sandwich supper and volunteered their time to help with the 'Making Dreams Come True' auction. They sold snacks door to door during their school's movie day, they also sold t-shirts, school supplies and trail mix, and even cleaned classrooms. Panola College is very grateful to Mrs. Giles and her class for helping make the Library expansion a reality."
Brenda is also a member of the Panola College Foundation Board and was instrumental in the creation of the Charles Ross & Fay Giles and the Floyd & Fannie Watson Honorary Scholarships.
Brenda Giles is married to Gene Giles. They have been married 30 years and together they have two daughters, Crista Breann Giles and Cara Brooke Giles.