Image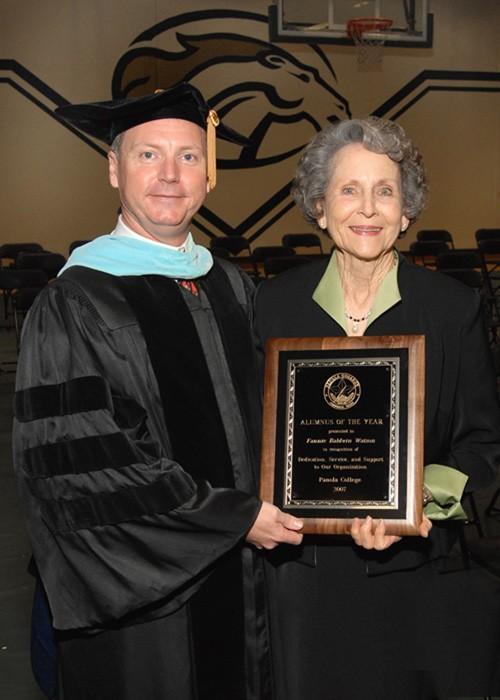 Fannie Watson
During Panola College's graduation ceremony on May 18, Dr. Gregory Powell, President of Panola College, stated, "Because of her dedication and years of service to the College, the Alumni Association thought it only fitting that Mrs. Watson be recognized and celebrated as this year's Alumnus of the Year." With that announcement Mrs. Fannie Baldwin Watson became the Panola College Alumni Association's 2007 Alumnus of the Year.
Mrs. Watson grew up in the Woods Community and graduated from Tenaha High School in 1948. She began attending Panola College in the second semester of its existence and was a member of the very first Green Jackets organization. She also belonged to the Future Teachers of America and served on the staffs of the College's newspaper, the Pony Express, and the Pony yearbook. After earning an Associate of Arts Degree in 1950 she went on to complete bachelor's and master's degrees at Stephen F. Austin State University and later enjoyed a successful fifty-year teaching career.
Mrs. Watson served four years as an officer of the Panola College Alumni Association, and she has been an active member of the Panola College Foundation Board since 2004. "She is tireless in her efforts to help our institution and will always meet you with a smile," said Van Patterson, Director of Institutional Advancement. "As a member of the Foundation Board, Mrs. Watson's efforts were crucial in helping us acquire several gifts for the M. P. Baker Library Expansion project."
In 2002 an endowed scholarship honoring Floyd A. (Dock) and Fannie Watson was established at Panola College. The endowment was created by their children in honor and celebration of their fifty years of marriage.
Mrs. Watson is the daughter of the late Clarence and Bessie Lee Goolsby Baldwin. Married for 53 years, she and her husband Dock Watson, have three children, eight grandchildren, and one great grandchild.