Image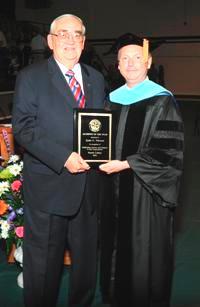 Lynn Vincent
The Panola College Alumni Association is proud to announce the selection of Mr. Lynn C. Vincent as the 2011 Panola College Alumnus of the Year. Vincent will be recognized at the Panola College graduation ceremony scheduled for Friday, May 13, at 7pm in the Arthur M. Johnson Gymnasium.
Lynn began his college career at Panola Junior College in 1956. As a freshman he attended classes and was a member of the Saddle Club. The following year he continued his studies and was voted a class favorite in 1958. Then, as now, Lynn had a good sense of humor as demonstrated in a quote attributed to him in the 1958 annual which stated, "I love work; I could sit and watch it for hours." Later that same year he graduated from Panola College. Following graduation he attended Stephen F. Austin State University where he earned a Bachelor of Business Administration degree.
"Mr. Vincent is truly a self-made man, and his story is one worth repeating to the students of this generation," said Mrs. Brenda Giles, President of the Panola College Alumni Association. "Mr. Vincent achieved his success the old fashioned way...he earned it. In 1957 Lynn began his banking career by sweeping floors and doing various odd jobs at the First State Bank and Trust Company, for free. The bank's owner, Mr. B. F. Payne, was impressed with Lynn's strong work ethic and offered him a paying position as a teller later that year. Fifty-four years later he continues to serve as a bank director and President of the First State Bank and Trust Company."
"Today, students are encouraged to give back by volunteering or providing a service to their community," said Dr. Gregory Powell, President of Panola College. "A review of the boards Mr. Vincent has served on over the past five decades and the organizations to which he has donated his time clearly demonstrate the impact 'giving back' can have on one's community.   Mr. Vincent has held membership and leadership positions in organizations such as the Carthage Rotary Club, American Cancer Society, United Way of Panola County, and the Salvation Army. In addition to serving as Mayor Pro Tem for the city of Carthage, he has served as a city commissioner and as a member of the Panola County Development Foundation. Over the years he has also served on the Boards of Panola General Hospital, Carthage Main Street Project, Panola County Airport, and the Panola College Foundation. Mr. Vincent is a lifetime member of the Panola College Alumni Association and a long time friend of the College. In addition to helping found the Texas Country Music Hall of Fame and Margie Neal Park, his financial and public support helped the College expand the M. P. Baker Library.  His work has resulted in a better community for all of our citizens."
Vincent is the son of Pauline Vincent and the late Thomas Vincent of Carthage. He and his wife, Carol, have two sons, Andy Lee Vincent and Thomas Anderson Vincent, and one daughter, Kay Lynn Brumbaugh. Carol serves as Chair of the Panola College Foundation, and Thomas is currently enrolled in Panola College's Petroleum Technology Program.