The Panola College Business Department provides degrees and certificates to fit your personal goals. We offer a business administration and management pathway for students looking to transfer to a 4-year university. For students that are ready to enter the workforce, you may be interested in a General Business and Office Professional degree or certificate.
Our curriculum provides you with a strong foundation in business management and the ability to demonstrate both technical and critical thinking skills. 
*If you plan to transfer to a university, take courses outlined in the Business Administration Field of Study. The General Business and Office Professional programs are not designed to transfer in their entirety to a university.
Business Administration and Management
The Business Administration & Management Field of Study provides the first two years of courses business students need if they intend to pursue a BBA at a university. Students earn an AS degree at Panola College that includes a core set of classes and the required accounting, economics, and math that universities look for when you step on campus as a junior.
If you are interested in majoring in accounting, marketing, management, human resources, or finance. Business Administration & Management is where you should start. The courses in this program provide a firm foundation for obtaining a BBA or MBA later in your academic career.
Students save a considerable amount of money on tuition and books by taking their first two years of business classes at Panola and then transferring those hours to their preferred university.
General Business Program
The General Business program is designed to provide practical skills that graduates will use in the daily operation of a business. Subject areas addressed include the foundations and functions of business, accounting, payroll, supervision, entrepreneurship, human resource management, business law, marketing, computer applications, etc.
If you want to enter the workforce with professional business training but do not want to transfer to a university, the General Business program is for you. Students may exit the program with a General Business certificate at 31 hours or finish 60 hours to earn the General Business AAS degree.
*Students that complete the General Business or Office Professional degrees do have the option to pursue an online BAAS degree from the University of North Texas per an articulation agreement between Panola College and UNT.
Office Professional
The Office Professional program provides the training needed to prepare you for an exciting career as a secretary, administrative assistant, office manager, payroll clerk, or even an executive secretary.
Courses in the program teach practical skills that prepare students to work in an office as support personnel. Educational institutions (ISDs and higher education), banks, insurance companies, government agencies, healthcare facilities, real estate agencies, and law firms are important employers of our graduates.
Students start the program with the General Office certificate and progress to the Administrative Assistant certificate. All of the courses taken in the certificates are then applied to the Office Professional AAS degree. If you are interested in a successful career in office and administrative support, the Office Professional program is for you.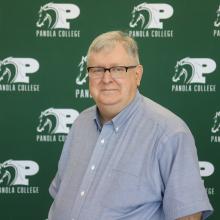 Department of Business Contact
Professor/Chair, Business