Welcome to the Human Resources Office at Panola College.
Whether you are a job seeker or a new or existing employee, you will find accurate, timely, and helpful information here. Our goal is to provide information relating to employment, benefits, compensation, employee training, professional development, and a wide range of other services.
Please feel free to contact us at hr@panola.edu or call 903-693-2000 should you have any questions.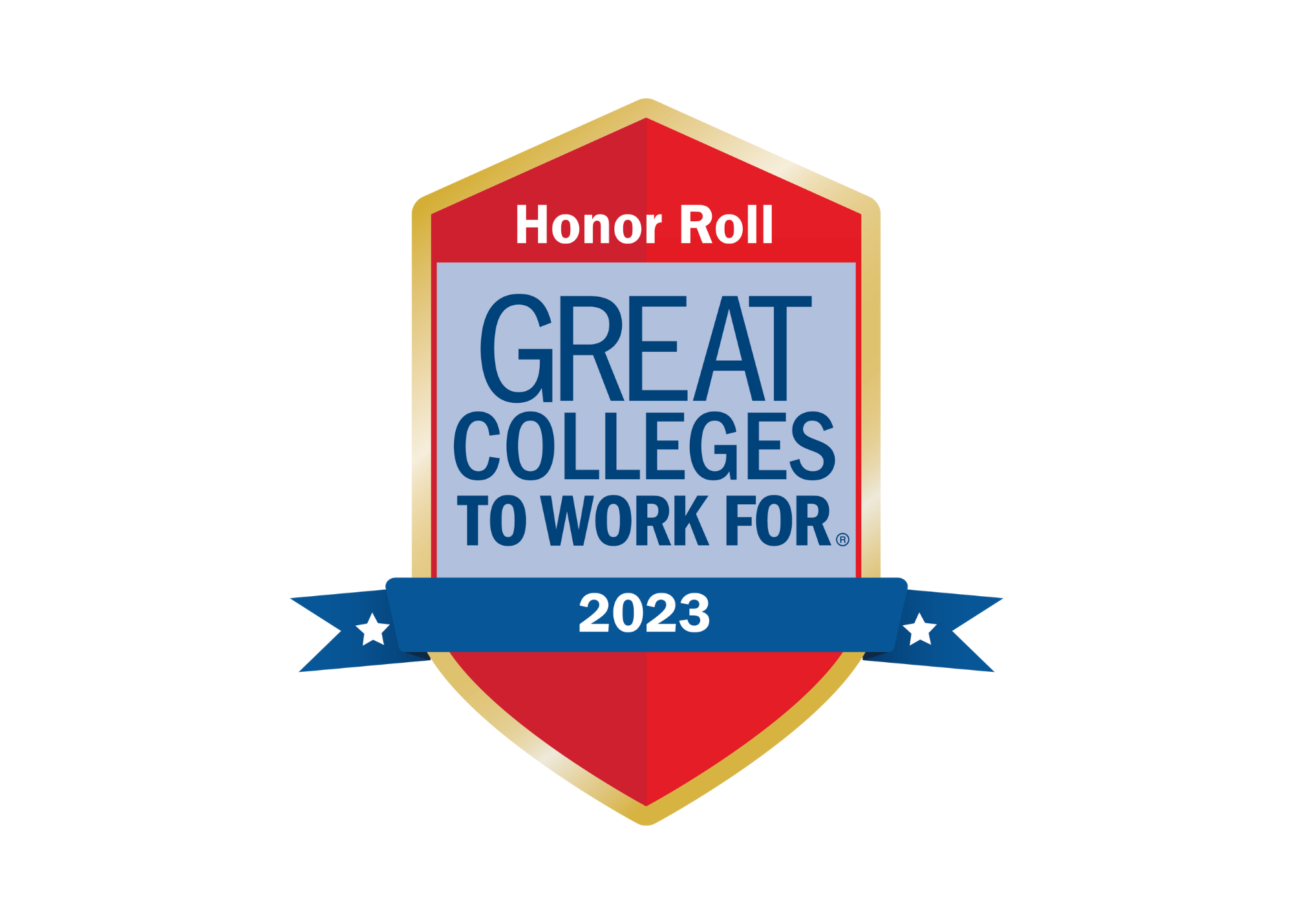 Panola College is a Great Place to Work! Voted by Employees - Named to the 2023 Honor Roll
The Chronicle of Higher Education has named Panola College one of the nation's Great Colleges to Work For for the twelfth consecutive year! Panola College was also named to the Honor Roll for Colleges across the nation. To visit The Chronicle of Higher Education website, click HERE!
Information Regarding Staff Compensation
TEXAS GOVERNMENT CODE SECTION 659.026(B) INFORMATION
1. Panola College employed 152 full-time employees during 2019-2020 fiscal year.
2. The College received state appropriations of  $6,096,469 and $6,108,487 for fiscal 2018-2019 and 2019-2020.
3. The Director of Human Resources negotiates the amount of compensation for executive and professional staff with the approval of the College President. Faculty and support staff employees follow the College's established salary schedules.
4. The College does not currently pay salary supplements.
5. A market average for similar executive staff in the private and public sectors is unknown.
6. The average compensation paid to employees who are not executive staff is $52,255.
7. The percentage increase in compensation of executive staff for each fiscal year of five preceding fiscal years is as follows:
Fiscal Year 2019-2020 = 2.34% Legislative Appropriations = .19%
Fiscal Year 2018-2019 = 3.54% Legislative Appropriations = (6.4%)
Fiscal Year 2017-2018 = 2.75% Legislative Appropriations = .10%
Fiscal Year 2016-2017 = 1.00%   Legislative Appropriations = .15%
Fiscal Year 2015-2016 = 4.31%   Legislative Appropriations = 11.43%
Panola College Salary Schedules
It is the mission of the human resources office to provide the following quality services to the employees of Panola College:
Recruitment of qualified individuals.
Retention of valuable employees.
Professional development to promote individual success and increase overall value to the institution.
A safe and healthful working environment.
Resources for administering benefits, policies and procedures.
These services are achieved through a team-work philosophy that is inspired through effective organizational skills, proactive efforts and maintaining a balance between professionalism and a relaxed atmosphere.
Panola College is an equal opportunity and affirmative action institution and does not discriminate on the basis of sex, race, color, religion, age, national origin, disability, genetic information or veteran's status in its educational program, employment policies or activities.
It is our policy to provide Equal Employment Opportunity in full compliance with the Civil Rights Act of 1967, as amended; the Rehabilitation Act of 1974 (Section 503, 504); the Vietnam Era Veterans Acceptance Act of 1974; Texas Statutes 6252-14-V.A.T.S. and 6252-16-V.A.T.S.; Executive Orders 11246 and 11758; the Family and Medical Leave Act of 1993, the Fair Labor Standards Act, the Texas Commission on Human Rights Act and the Americans with Disabilities Act.
Contact Human Resources
Phone: 903-693-2000
Email: hr@panola.edu
Martha Miller Administration Building, 1109 West Panola Street, Carthage, Texas 75633.
Director of Human Resources
ADA and Title IX Coordinator