Image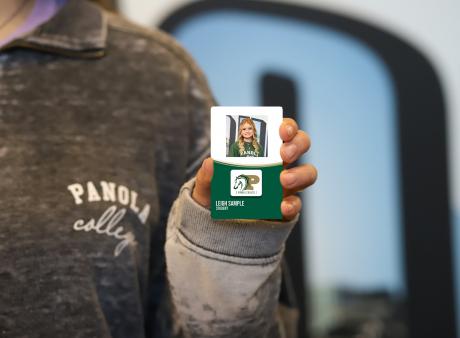 Panola College Student ID Card
Use your Panola Card as your official student ID for all of your on-campus needs.
Panola Student Identification Card Information
IT IS REQUIRED THAT ALL PANOLA COLLEGE STUDENTS OBTAIN AND CARRY A PANOLA CARD. 
For information on how to obtain your Panola Card, call the Student Services Office at 903-693-2000 or visit the second floor of the Charles C. Matthews Foundation Student Center. Students may also obtain a Panola Card at the Marshall College Center and the Shelby Regional Training Center. 
How can you use a Panola College student ID card?
Purchase food through your meal plan
Check out books from the library
Attend athletic and fine arts events
Receive student discounts from participating merchants
Access the Fitness Center
Official ID for Academic Testing (Online and On-Campus)
Herring Bank - College Green Debit Card
Panola College and Herring Bank have teamed up to offer you the College Green Debit Card. The Green Card allows you to open an optional checking account that offers free access to Herring Bank ATMs and to make no-fee purchases at merchant locations that accept MasterCard signature or pin-based transactions. It's an easy way to access cash and make purchases on and off-campus.
No monthly service fee
Easy access to free Herring Bank ATMs on and around campus
Free access to online banking – check balances and view your checking account statement online from anywhere you have internet access. www.panolacard.com
Get Paid Faster – Visit your Student CampusConnect to select your designated financial aid refund selection. By selecting Herring Bank as your designated refund institution, you will receive your College Green Debit Card within 10-14 days by mail. Follow the next tab for setting up your Herring Bank-College Green Debit Card once you receive it.
Need to report a lost or stolen card?
For Lost College Green Debit Cards:
Contact Herring Bank at 1-866-348-3435
For Lost Panola College ID:
Pick up a new card from the Student Success Office in the Charles C. Matthews Foundation Student Center, the Marshall College Center, or the Shelby Regional Training Center.