Image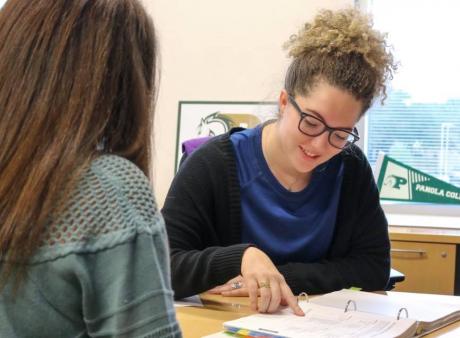 Our advisors can assist you with:
Interpreting test scores
Selecting a major
Degree planning
Information on the registration process and clearance to register
Registering for classes
Academic or Career & Technical: What's the Difference?

| Academic Fields of Study | Career & Technical Programs |
| --- | --- |
| Courses designed to satisfy the lower division requirements for a bachelor's degree in a specific area at four-year colleges in the State of Texas. (i.e. Accounting, Fine Arts, Kinesiology, Social Science, etc.) | Programs designed to prepare students for occupational employment focusing on technical skills for specific career areas. Transfer options may exist at some four-year colleges through the Bachelor of Applied Arts and Sciences (BAAS) degree. (i.e. Cosmetology, Vocational Nursing, Associate Degree Nursing, Occupational Therapy Assistant, Computer Information Systems, Petroleum, Welding, etc.) |
If you need to withdraw from a course please contact the admissions office at 903-693-2038.
Need to check to make sure you're on the right path? Want to see what future courses you need to take?
Explore the Panola College catalog for information on the more than 70 programs and certificates offered.  
First Alert Program
The First Alert Program is designed to identify a student's class deficiencies within the first 5 weeks of the semester to help them succeed. 
In this program, Student Services and faculty members engage with the students to identify their problems and identify potential barriers.
Students are contacted by phone or email to discuss all opportunities to get the student on a path for success. It is entirely the student's responsibility to respond. Whatever the problem might be, Panola College is committed to helping our students.
Each semester, data is collected on our First Alert students to determine if they are successful. Success is defined for this program as passing that class with a "C" or better, dropping it, or withdrawing from school. 
Success increases with the early identification of deficiencies, whether it is poor attendance or poor note-taking. When a student drops a class that he or she is failing, the likelihood of remaining in school is increased. The same may be said for withdrawal from school. It allows for the grade point average to remain at a manageable level upon the student's return.
Within the first 5 weeks of the semester, faculty refer students with low grades (D or F) or excessive absences in one or more of their classes to Student Services by completing the First Alert Referral Form.
A contact is sent back to the professor acknowledging receipt of the referral.
Multiple attempts are made to contact the students through emails and telephone calls.
Students who respond are assessed and given information about how to improve their academic performance.

Depending on individual needs, this may include:  informing them about tutoring opportunities (peer, online, and support labs), explaining college policies that affect their academic standing, and referring them to other campus agencies.

Faculty members are kept up to date on their student's progress through the First Alert Program.
Contact Us
Advising appointments can be made by calling:
Carthage: 903-693-2048
Center: 936-591-9075
Marshall: 903-935-5039
Office Hours
Monday - Thursday: 7:30 am - 5:00 pm
Friday: 7:30 am - 12:30 pm
Secretary to the Vice President of Student Services