The Associate of Arts in Teaching (AAT) degree is a specialized academic associate degree that transfers to a baccalaureate program leading to initial Texas teacher certification. It will provide you everything you need from a two-year college to give you a head start upon transferring to a four-year program.
Work as a Texas public school paraprofessional. With an ATT, you can qualify to work in other early education settings or in positions for which an associate degree is required. In other words, you will leave Panola ready for some jobs in the educational system.
Our schools are changing. Our expectations for public education are evolving. And while change is exciting, it is also scary. As a result, American children and teens need a new generation of bold young adults ready and willing to lead them into a future full of both promise and change.
Will you be that bold educator?
If so, the Panola College Department of Education can't wait to meet you!
Earn Your Bachelor's Degree on the Panola College Campus
This program is designed for Panola College students enrolled in the Associate of Arts in Teaching (AAT) degree program with the intent to continue their education to earn a Bachelor of Science in Interdisciplinary Studies (education) degree.
University of Texas at Tyler
Students can take all UT Tyler early childhood through 6 grade (EC-6) courses on the Panola College campus. They must be enrolled in the Panola College AAT degree program when they apply to UT Tyler and meet the formal criteria to be admitted into the UT Tyler EC-6 teacher preparation program. The EC-6 program prepares students to teach English, mathematics, science, social studies, music, art, health, and physical education at the elementary level.
For more information contact:
Bruce Hawkins, UT Tyler Education Advisor
Panola College, Monk Building #1305
Tuesdays 3:00 p.m to 6:00 p.m. (or by appointment)
903-693-2012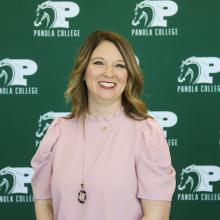 Department of Education Contact