Occupational Therapy (OT) focuses on helping people live a life that is meaningful to them. Occupational therapy professionals help people of all ages, from babies to seniors, and are great at problem-solving and finding solutions to what needs to change for someone to live life well.
Associate of Applied Science in Occupational Therapy Assistant
STEP 1: READ THE Admission requirements on the Panola college catalog ota page
The "Applying to the OTA Progam" heading in the Panola College Catalog outlines the requirements you need to complete to apply.
STEP 2: BE admitted to Panola college
You must obtain full admission to Panola College.
STEP 3: Completed all Prerequisite Courses
You must have completed the following prerequisites prior to applying:
BIOL 2401 Anatomy and Physiology 
ENGL 1301 Composition & Rhetoric I
PSYC 2301 General Psychology
You may apply without completion, but must be completed by the end of first Fall Semester 1 after acceptance to OTA Program:
HUMA 1301 Introduction to Humanities
Non prerequisite Courses (May be completed prior to application):
BIOL 2402 Anatomy and Physiology II
PSYC 2314 Lifespan Growth and Development
STEP 4: Have a minimum of 2.5 GPA
You are required to have a minimum core curriculum course GPA of 2.5 or higher in order to be eligible for selection.
STEP 5: Complete the OTA Application
You should complete the OTA program application in the spring semester after the application opens in January. The top 50 applicants will be selected to continue the process and will be scheduled for an interview.
Application Period
Application Process Opens - January 2, 2024
Application Deadline - May 17, 2024 
Interview for eligible applicants - June 6, 2024 (all day)
Mandatory Orientation for accepted applicants - August 1, 2024 (all day)
Many of our prospective students are nervous and/or intimidated by the idea of having to do an interview. Below are some tips that may help you be better prepared for the interview.
Research Occupational Therapy so that you will have a better understanding of the profession.
Make sure you know where you're going and arrive early. It is better to arrive 5 or 10 minutes early than arrive late.
Dress professionally. Ladies should wear dress pants or a skirt that is modest in length and a nice blouse, and gentlemen should wear dress pants with a dress shirt. (No sleeveless shirts, low-cut V-neck (cleavage showing) halter tops, flip-flops, tennis shoes, or tight clothing. Pants and shirt must meet so that when bending down or sitting no skin is showing.)
Listen carefully to the questions that are asked; if you aren't clear on the question, ask the interviewer to restate the question.
Answer questions as directly as possible.
Be polite.
Be confident.
Make eye contact.
Try to relax.
OTA Program Highlights
88%
Three Year Average Pass Rate
Panola College OTA pass rate on the National Board for Certification in Occupational Therapy board exam 
24
Students Per Cohort
Cohorts begin every fall semester
86%
Three Year Average Graduation Rate
Three year graduation average of Panola College OTA students
Resources
The OTA Program Advisory Committee is representative of the OT field in our service area. The purpose of the committee is to advise the program on matters related to:
goals and objectives that impact the program's curriculum
policies regarding classroom and fieldwork
specific OTA skills required in the workforce
current and future trends in the field of OT
instructional supplies, equipment selection and acquisition 
the adequacy of existing facilities and equipment
recruiting resource persons within the business/industry community who will provide external learning experiences and/or student employment
professional development of the faculty
In addition to representing the needs of special populations, the committee members serve a public relations function in promoting and publicizing the program to the community and to business and industry
Advisory Committee

| | |
| --- | --- |
| Jeani Bettershell, OTR | Janet Mounce, Community Member |
| John Jaskiewicz, OTD | Robby Mounce, Community Member |
| Terrie King, OTR | Lauren Sanders, OTR |
| Laura Kiper, COTA | Rosiland Scobey, OTR |
| Tommy Knight, Community Member | Lance Slaten, Community Member |
| Cheri Lambert, OTR | Justin Smelley, COTA |
Student Occupational Therapy Assistant (SOTA) Club
This community service club is open to all students enrolled in the Occupational Therapy Assistant program, all students declaring OTA as their major, and all OTA Program alumni. The purpose of this club is to unite the OTA students, future students, and alumni and broaden their intellectual and professional skills through community service projects.
Sponsor: Randy Ford - rford@panola.edu, 903-694-4000
Occupational Therapy Assistant (OTA) Staff
Accreditation
The Occupational Therapy Assistant Program is accredited by the Accreditation Council for Occupational Therapy Education (ACOTE) of the American Occupational Therapy Association (AOTA), located at 6116 Executive Boulevard, Suite 200, North Bethesda, MD 20852-4929. ACOTE's telephone number c/o AOTA is (301)652-AOTA. In 2013, the OTA Program was re-accredited for the second time for ten years, the longest period awarded by ACOTE.
Upon completion of the OTA Program, graduates will be able to sit for the national certification examination for the occupational therapy assistant administered by the National Board for Certification in Occupational Therapy (NBCOT). After successful completion of the exam, the individual will be a Certified Occupational Therapy Assistant (COTA). In addition, all states require licensure in order to practice; however, state licenses are usually based on the results of the NBCOT Certification Examination. A felony conviction may affect a graduate's ability to take the NBCOT exam or attain state licensure. Additionally, students with a criminal history are not guaranteed fieldwork placement.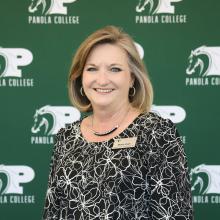 Department of Occupational Therapy Assistant Contact
Secretary to the Dean of Health Sciences and OTA