Our Emergency Medical Sciences Department prepares students to work in a variety of health care facilities as Emergency Medical Technicians and Paramedics Upon successful completion of the course and NREMT testing, graduates are able to work at fire departments, private EMS services, and hospitals.
EMS is an exciting field where each day offers new challenges. The program teaches you many life-saving skills, required for the fast-advancing world of Emergency Medical Services (EMS).
National EMS Certification - Graduates of the program will be eligible to apply to the National Registry of Emergency Medical Technicians (NREMT). Upon successful completion of NREMT testing, students may apply to the Texas Department of State Health Services for state certification.
Paramedic Certificate
A Paramedic Certificate from Panola College can prepare you for certification in a health care field that can lead to a career in EMS or other related fields. Each year in the United States, about 240 million calls are made to 911 for emergency medical assistance, which means every minute someone urgently needs help.
Our program combines classroom lectures and lab skills with real-time clinical patient treatment experience in hospitals and on ambulances. EMS training at Panola College utilizes modern classroom facilities and state-of-the-art skills laboratory equipment to prepare students to be competent and qualified Emergency Medical personnel.
Step 1: Apply to Panola College
Visit our Apply Now page and follow our simple process to start your enrollment today.
Step 2: Attend an EMS Program Information Session and Semester Orientation
All EMS students (new and returning) must attend one program information session and the mandatory semester orientation prior to the course start date. Call 903-694-4524 for session dates and times.
Step 3: Background Check and Drug Screening
The State of Texas and our EMS program require you to provide a current (within 1 year) criminal background check and drug screen. This will be scheduled during the Orientation.
Texas Administration Code Background Statement
Note: Pursuant to Rule 157.12 for the Texas Administrative Code (TAC), a person who has any arrests, criminal charges or indictments, criminal investigations, motions to revoke probation, etc. of any crime may be disqualified from obtaining licensure as an EMS Professional. 
If you have any questions regarding past incidents, contact the TDSHS at their website https://www.dshs.state.tx.us/emstraumasystems/default.shtm or you can call them at 512-834-6700. 
Step 4: Update Your Immunizations
All immunizations must be current and may not expire during the program. 
Tetanus (td/tdap) [within the past 10 years]
TB (PPD) skin test (must show date given - date checked with results)
Seasonal flu shot 
2 MMR shots or titer that shows immunity
2 Varicella shots or titer that shows immunity
HEP B series of 3 shots and titer that shows immunity
Physical Examination (You will receive a form when you register)
Clinical sites may require a COVID-19 vaccination 
EMS Staff
Chair/Instructor, Emergency Medical Sciences
School of Health Sciences
Adjunct Instructor, Emergency Medical Sciences
School of Health Sciences
Adjunct Instructor, Emergency Medical Services
School of Health Sciences
Program Outcomes
CAAHEP Accredited Paramedic Programs track and report outcome measures annually to the Committee on Accreditation for the Emergency Medical Services Professions (AoAEMSP).
The most current CoAEMSP Annual Report was for the calendar year 2020.
The most recent success rate was for the calendar year 2020.
The most recent success rate for the National Registry of EMT Paramedic Cognitive exam was 50%.
The most recent positive placement rate for graduates was 66.7%. Positive placement is defined by the CoAEMSP as "Employed full or part-time in a related field and/or continuing his/her education and/or serving in the military". Positive Placement is measured at completion of the program.
The most recent retention rate was 100%.
Accreditation
The Panola College Paramedic Program is accredited by the Commission on Accreditation of Allied Health Education Programs (www.caahep.org) upon the recommendation of the Committee on Accreditation of Education Programs for the Emergency Medical Services Professions (CoAEMSP).
Commission on Accreditation of Allied Health Education Programs
727-210-2350
www.caahep.org
To contact CoAEMSP:
214-703-8445
www.coaemsp.org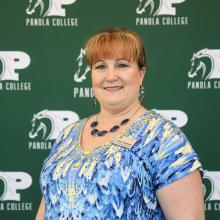 Department of Emergency Medical Sciences Contact
Support Specialist, Health Sciences/Health Information Technology