2023
Panola College Foundation awards $89,566 in faculty, staff grants
Image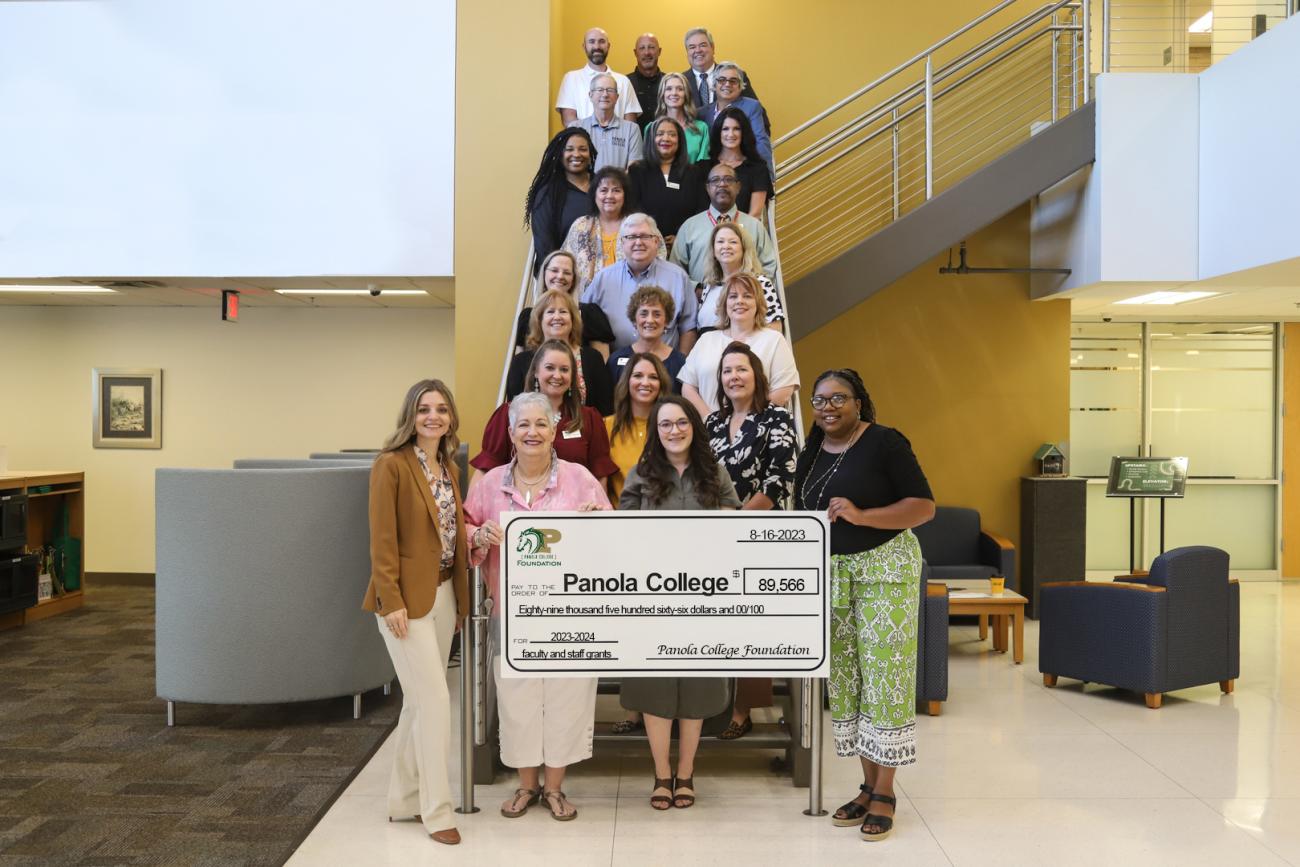 The Panola College Foundation awarded 25 faculty and staff grants, totaling $89,566, to support a variety of programs and areas at Panola College this year.
The grants allow employees at Panola College to pursue high-quality, imaginative, and innovative improvement of student success, professional development opportunities, and minor program enhancements such as equipment and supply purchases.
Toni Biggs, the 2023-2024 chair of the Panola College Foundation, announced the recipients of the grants at a faculty and staff meeting on Wednesday, August 16, at the College.
"In today's dynamic educational landscape, where change is the only constant, looking for new ways to help students reach their educational goals is imperative," said Biggs. "The Foundation applauds your unwavering commitment to nurturing student success."
The 2023-2024 grants include funding for the following:
Carol Brightwell: Eight Adult and 12 Infant Training Manikins for CPR
Amanda Clements: Two Traveling Exhibits and Two Displays with Lights for the Allison Gallery
Don Clinton: Recumbent, Elliptical, and Upright Bike for the Fitness Center
Rebecca Courtney: New Shelving and Storage for Increased Organization and Backstock
Dwayne Ferguson: 15 Microsoft Office Specialist Exam Vouchers
Wendy Green: 10 Certified Nurse Aide Handwash Training Kits
Haylie Handley, Amanda Clements, and Kathy Watlington: Museum Field Trip for Fall and Spring
Dwaine Hubbard: Four Shure SM 58 Microphones
Chelsea Hudson: 16 Athlete Stools with Panola Logo
Karen King and Kim Funderburk: Professional Light Board for Q.M. Auditorium
Cancee Lester: Five Laptops for the SRTC Laptop Cart
Rebecca Morris and Kathy Watlington: Field trip to the Dallas Holocaust and Human Rights Museum and the Sixth Floor Museum at Dealey Plaza
Rebecca Morris, Kathy Watlington, and Roberta Collinsworth: Provides 30 Google Certified Educator Certifications for AAT students
Jessica Pace, Amber Wilcots, Denise Welch, and Whitney McBee: AwardSpring Scholarship Software
Michael Pace: HVAC Tools and Supplies
Michael Pace: Pipe-cutting and Threading Machine
Kevin Rutherford and Laura Wood: Sarcomere Model that Shows the Contraction of the Muscle Fiber
Kevin Rutherford, Julie Green, and Dale Saenz: Student Engagement Equipment
Bobbie Smith: Student Reception Chairs
Bobbie Smith: 51 Anti-fatigue Mats for Center and Carthage
Monica Thompson: Book Covering System
Laura Wood: Two Smart TVs for Collaboration Stations
Laura Wood: Four Video Sound Bars for Classrooms
Laura Wood and Kevin Rutherford: Biology Lab Counters
Jaynellen Wylie: Two 24" Monitors and Adjustable Instructor Desk