2023
Green Jackets, SGA donate $1,000 to Panola County Veterans Relief Fund
Image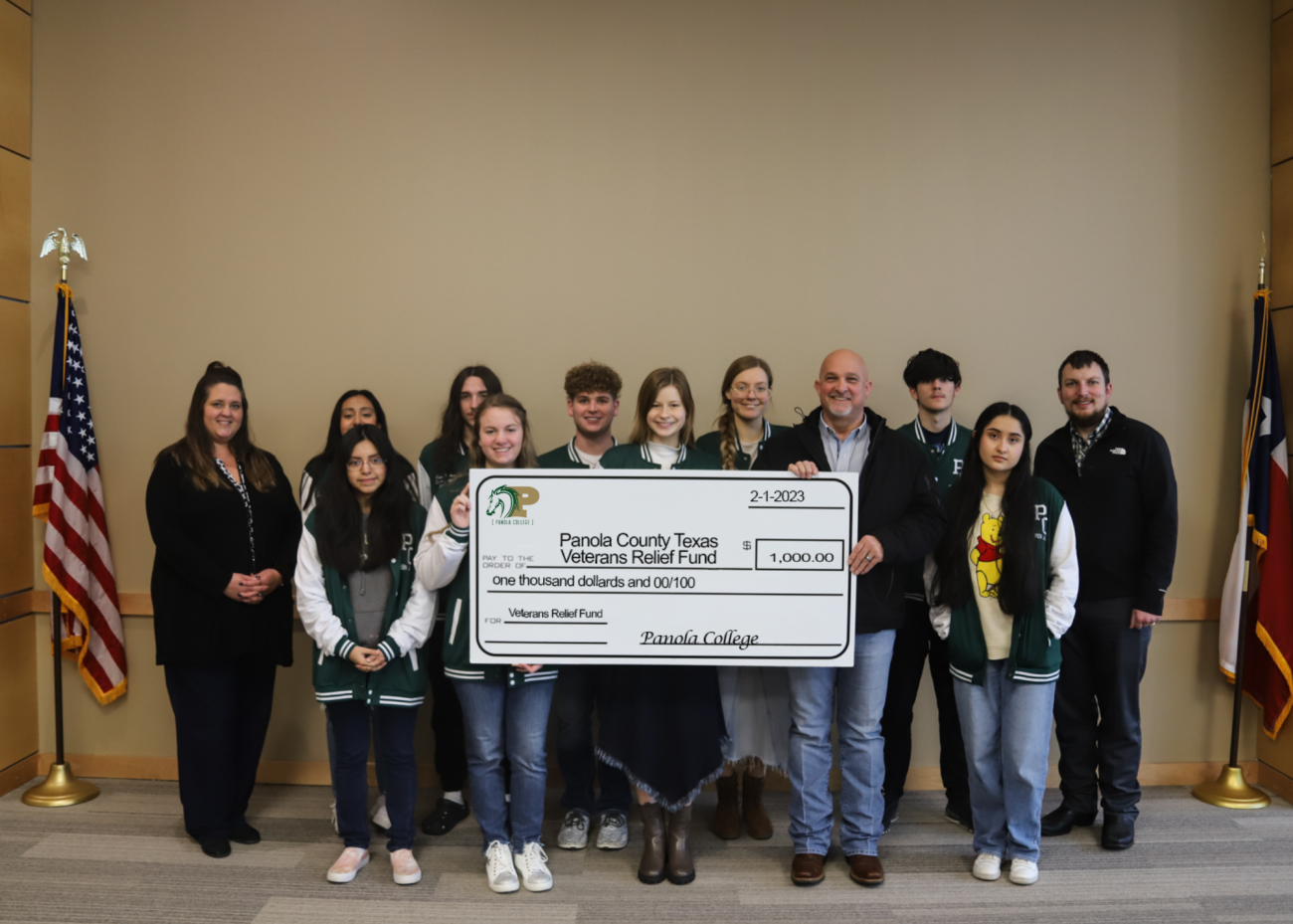 The Green Jackets and Student Government Association, two on-campus student organizations at Panola College, donated $1,000 to the Panola County Texas Veterans Relief Fund on Wednesday, Feb. 1. The donation was accepted by Bill Morris, the founder of the Panola County Texas Veterans Relief Fund and the Veterans service officer for Panola County.
"We had such a great outpouring of support for the Veterans Day Dinner that we host each year on campus, and as a result we were able to double our donation to the Veterans Relief Fund this year," said Katie Ferris, sponsor of the Green Jackets. "It is an honor to be able to host the annual Veterans event, but it would not have been possible without our generous sponsors and their continued support."
The donated funds were raised through sponsorships that were sold for the annual Veterans Day Dinner, an event coordinated by the Green Jackets and Student Government Association members and sponsors. The event is free to attend for any East Texas service member, and is hosted each Veterans Day. Sponsorships are used to fund the Veterans event, benefit the Veterans Relief Fund, and fund future Veterans events hosted at the College.
"Serving these admirable individuals, who have made immense contributions to our nation, has been a genuine privilege," said Hannah Solis, vice president of the Green Jackets. "Although our efforts at the event pale in comparison to the tremendous sacrifices they have made, we sincerely hope they felt valued and acknowledged."
Sponsors for the event include: Title Sponsor, Panola College Foundation; Event Sponsors; Carthage Service League and DPT Services; Table Sponsors, Ransom Drilling LLC, First State Bank & Trust, Carthage Furniture Store, Bud and Kathy Worley, Gene and Brenda Giles, Carthage Missionary Baptist Church, and DPT Services; Seat Sponsors, Panola County Gun Club, Vera Bank (x2), and Miranda Hagans; and 11 Flag of Honor sponsors.
"Being able to honor the men and women who have fought for our country is absolutely incredible," said Ty Ransom, ambassador for the Green Jackets. "Having the opportunity to give a contribution to the local veterans in our community is heartwarming. They all deserve so much, and I am grateful to have been able to recognize them and present them with such a gift."