2022
Panola College Foundation awards $93,701 in faculty, staff grants
Image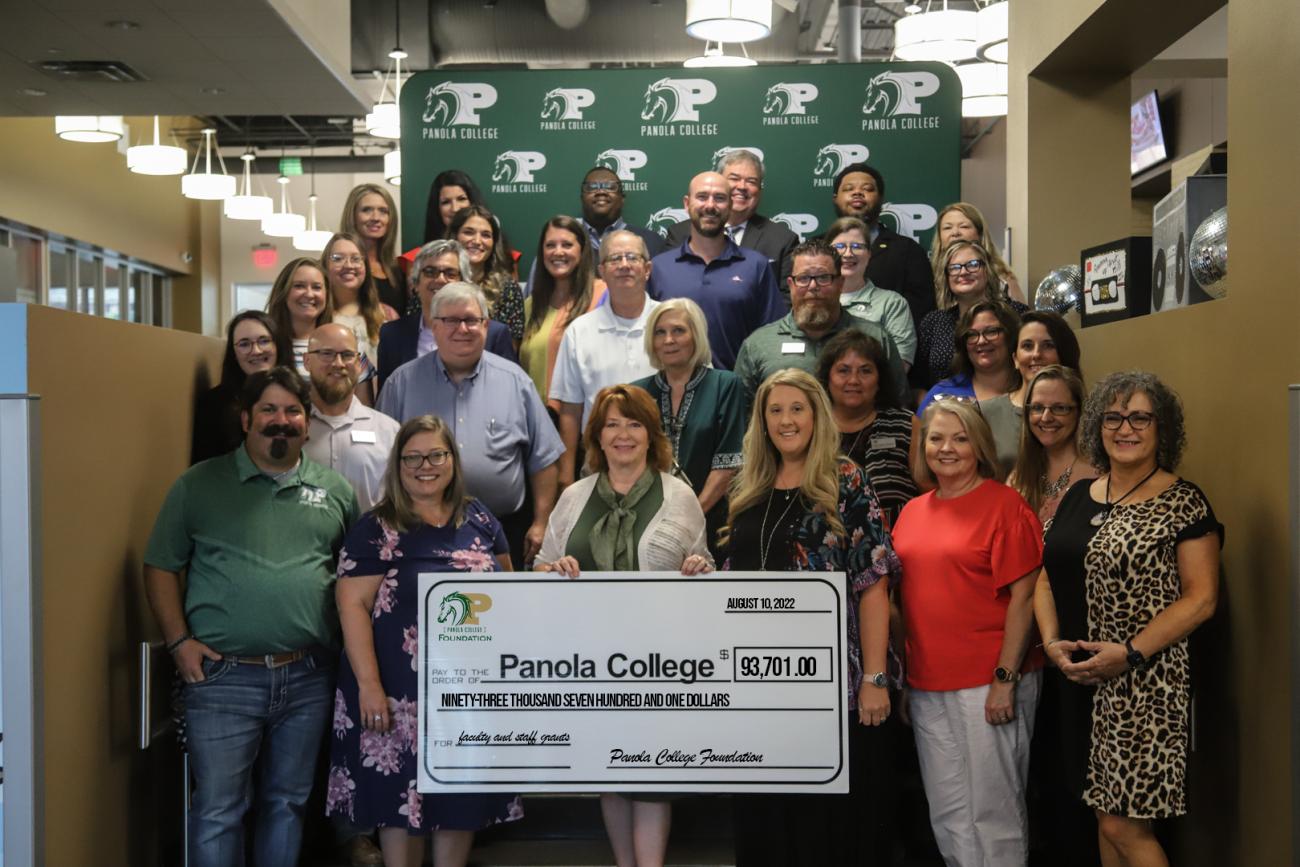 The Panola College Foundation awarded a record 32 grants to 21 different programs in eight areas at Panola College this year. The grants, which totaled $93,701, will go toward supporting various programs and initiatives at the College.
The grants allow employees at Panola College to pursue high-quality, imaginative, and innovative improvement of student success, professional development opportunities, and minor program enhancements such as equipment and supply purchases.
Vicky Hudson, the 2021-2022 chair of the Panola College Foundation, announced the recipients of the grants at a faculty and staff meeting on Wednesday, Aug. 10 at the College.
"The Panola College Foundation is proud to support the faculty and staff at Panola College," said Hudson. "Panola College employees' dedication and commitment to their students are apparent through the numerous applications we receive each year."
The 2022-2023 grants include funding for the following:
Becky Walker: Breast and Testicular Self-Exam Models
Cancee Lester and Doug Snodgrass: SMART Board Interactive Display and Accessories
Carol Brightwell and Tana Searcy: CPR Equipment
Chasity Klingler: Three iPad Pros with Keyboards and Pencils
Corey Johnson: 3D Printer to Print Anatomy Models for Commuting Students
Dale Saenz: Adult Legos
Daron McDaniel: Texas Speech Communication Association Annual Convention
Doug Snodgrass: Two Vascular Arm Models
Dwaine Hubbard: Five Stands with Logos for the Band
Dwayne Ferguson: Microsoft Office Systems Exam Vouchers for 20 Students
Haylie Handley and Amanda Clements: Fall and Spring Museum Field Trip for Students
Jacky Andreatta: Sports Medicine Portable Table with Logo
Julie Green: 'Breathe for Change' Training, Course Manuals, and Yoga Mats
Karen King: 100 Storage Bins for Props and Costumes
Karen King: Four Altman PHS LED Lighting Instruments
Katy Chance: Easter Egg Hunt Prizes
Katy Chance: Giant Outdoor Games
Katy Chance and Amanda Clements: Printing and Framing for Student Exhibits
Katy Chance and Texas Reardon: E-sports Gaming Room Equipment
Kevin Rutherford: Vascular Arm for Marshall A&P Lab
Laura Wood: College Store Vending Machine for Marshall Campus
Lisa Miller: Two IV Arm Manikins for Center Campus
Mary Chance, Don Clinton, Bruce Koch, and Whitney McBee: Self-defense Training for Students and Employees, Equipment for Training
Michael Pace: Electrical Tools, 3-plane Laser, and Hand Tools
Rebecca Courtney: Displays, Shopping Baskets, Product Photography Bundles
Rebekah Burkhalter and Laura Wood: 240 GED Ready Vouchers
Sandra Bauer and Dwaine Hubbard: Symphony Concert Field Trip
Shay Joines: 8 Archival and Display Cases, Preservation Sheets, and Binder Cases
Texas Reardon and Katy Chance: Gaming Bus for National Gaming Day
Veronica Wilkerson: Lumen Tracking Camera for Recording Instruction
Wendy Fehner: Hydraulic Patient Lift and Universal Sling
Whitney McBee: Mental Health Instructor Training