2022
Drama to present dinner theatre performances of 'The Mousetrap'
Image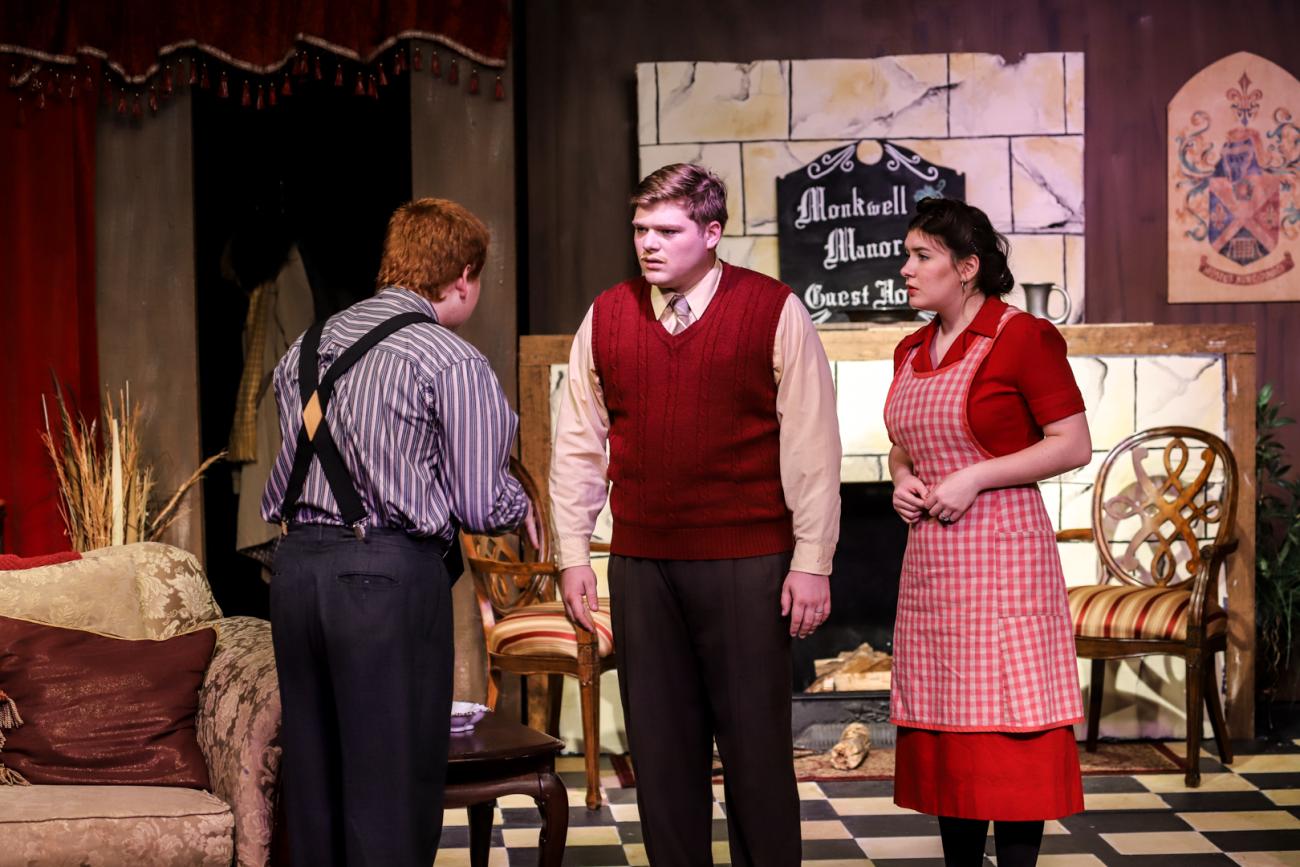 Panola College drama will present 'The Mousetrap' by Agatha Christie as its annual dinner theatre production on Friday and Saturday, Sept. 16 and 17, and as a dessert matinee on Sunday, Sept. 18. 'The Mousetrap' is produced by special permission from Samuel French, Inc.
As news spreads of a murder in London, a group of seven strangers find themselves snowed in at a remote countryside guesthouse. When a police sergeant arrives, the guests discover – to their horror – that a killer is in their midst. One by one, the suspicious characters reveal their sordid pasts. Which one is the murderer? Who will be the next victim? Can you solve this world-famous mystery for yourself? For almost 70 years, Agatha Christie's 'The Mousetrap' has kept millions of people from every corner of the globe on the edge of their seats. Due to the surprise twists of this show, audiences are asked not to reveal the ending.
The show features Mollie Ralston, Taylor Alexander, Sophomore, Gary; Giles Rolston, Jared Jackson, Freshman, Alto; Christopher Wren, Scott Eddins Jr, Freshman, Colmesneil; Mrs. Boyle, Autumn Stewart, Freshman, Maydelle; Major Metcalf, Jacob Phillips, Sophomore, Mt. Enterprise; Miss Casewell, Jessica Bailey, Sophomore, Nacogdoches; Mr. Parvacinni, Turner Mullican, Freshman, Palmer; Sgt. Trotter, Dylan Essery, Sophomore, Gary; and Radio Voice, Julien Lawrence, Sophomore, Timpson; and MC, Jaedon Lewis, Sophomore, Mt. Enterprise.
Crewing the production are Assistant Director, Sarolyn Musick, Sophomore, Gary; Stage Manager, Dawson Windham, Sophomore, Shelbyville; Assistant Stage Manager, Caleb Ridgeway, Sophomore, Shelbyville; Lights, Donovan Williams, Sophomore, Gary and Kady Matthews, Freshman, Union Grove; Dramaturgy, Andrea Rosenbaum, Freshman, Portland; Sound Design; Cason Grimaldo, Sophomore, Grapeland; Costume Design, Haven Heiman, Freshman, Shelbyville; Props, Katelyn Guerro, Freshman, Colmesneil; Make-Up, Hair, and Poster Design, Chelsey Caldwell, Sophomore, Mt. Enterprise, assisted by Evelyn Boles, Freshman, Mt. Enterprise; Special Effects, Estrella Villanueva, Orange, and Center Piece Design Tameka Alexander, Freshman, Centerville, and Scenic Painter, Katy Chance.
The production is staged in the Elizabeth R. Hedges Studio Theatre located on the Panola College campus. Seating is limited and reservations are required. For the dinner theatre productions on Friday, Sept. 16, and Saturday, Sept. 17, dinner begins serving at 5:30 p.m. and ends at 6:40 p.m., with the show starting at 7 p.m. For the dessert matinee production on Sunday, Sept. 18, doors open at 12:30 p.m. and the show begins at 1:30 p.m. Dinner will be a full Italian meal with salad, a side, bread, dessert, water, coffee, and tea. Dessert will feature a selection of pies, cake, and cookies, along with water, coffee, and tea.
Tickets for the dinner theatre are $40.00 for adults and $35.00 for seniors, students, and children. Dessert matinee tickets are $20.00 for adults and $15.00 for seniors, students, and children. All tickets are pre-paid and no tickets are sold at the door. Tickets go on sale Saturday, Sept. 3, and are available at panola.booktix.com. Tickets may be pre-purchased via check or cash by visiting the theatre department at Panola College. For more information or to make arrangements to pay by check or cash, email tickets@panola.edu or call 903-693-2064.