2023
Leon Carter and Amber Lee named Panola College Alumni of the Year
Image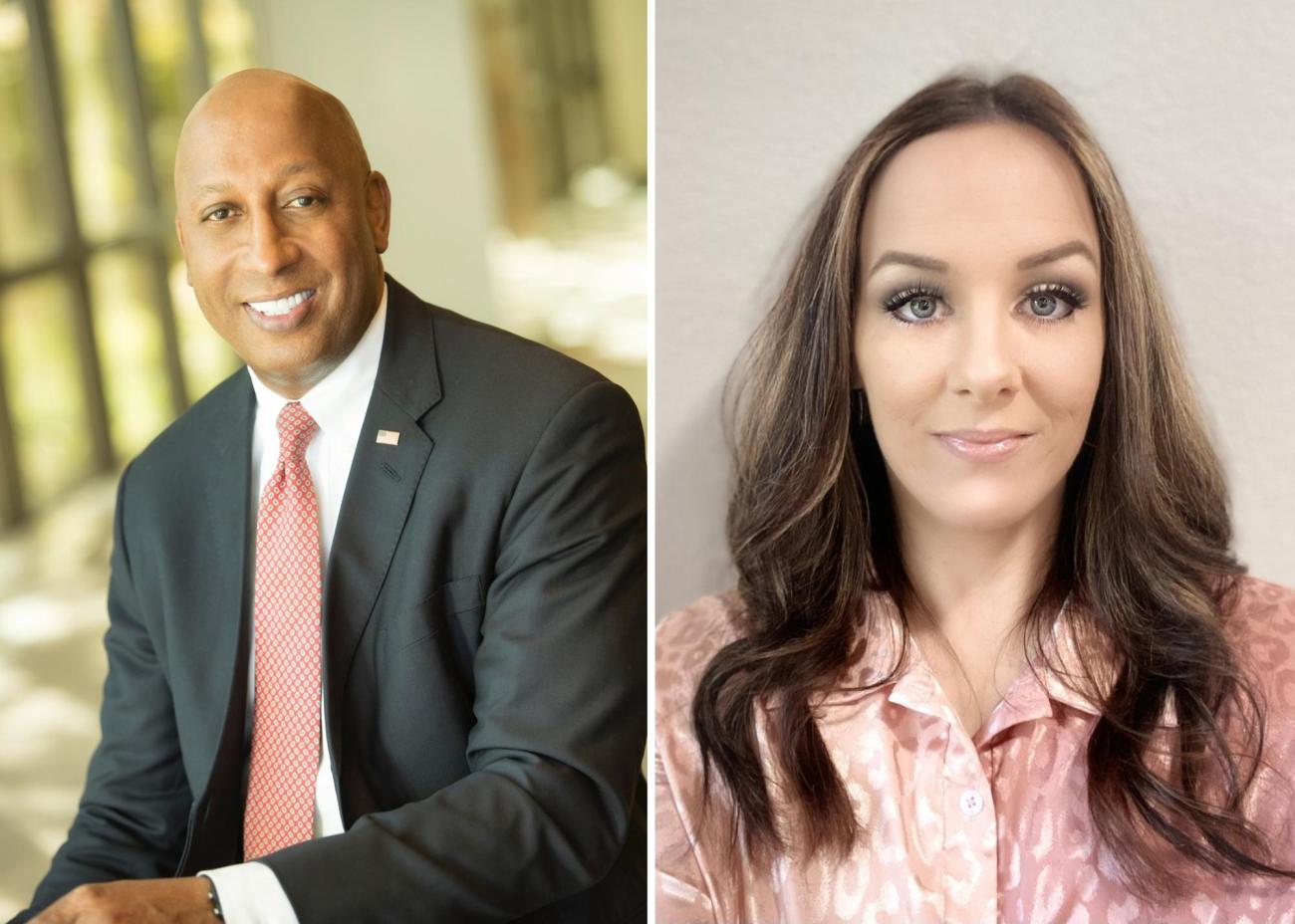 The Panola College Alumni Association is proud to announce Leon Carter as its Alumnus of the Year and Amber Lee as its Young Alumna of the Year. This year is the first time the Association has selected two recipients, with both Carter and Lee scheduled to speak at the May 4 commencement ceremonies.
Leon Carter is the principal attorney at the law firm Carter Arnett PLLC in Dallas. He focuses his practice on a range of legal matters, including anti-SLAPP litigation, antitrust litigation, business litigation, complex commercial law, construction law, copyright and trademark law, governmental liability, serious personal injury and wrongful death, patent law, and first amendment and media litigation.
Carter attended Panola College in 1977 before transferring to East Texas Baptist University, where he obtained a bachelor's degree in history and pre-law. He studied law at Texas Southern University and obtained his Juris Doctor in 1986. He is licensed to practice in Texas and before the U.S. Supreme Court, the U.S. Court of Appeals for the Federal Circuit, the U.S. Court of Appeals for the 5th Circuit, and the U.S. District Court for the Eastern, Northern, Southern, and Western Districts of Texas. Carter was a Dallas County assistant district attorney and an assistant attorney general for the Texas state after law school.
"I vividly remember the first history class I took with Professor Bill O'Neal. He was the first person who made history alive and real to me," recalled Carter. "The enjoyment that I got from that first history class with him made learning fun which increased my desire to learn even more, which led me to further my education by attending law school."
Actively associated with the legal community, Carter is a fellow at the American College of Trial Lawyers and is on its State Committee. He is a fellow at the Litigation Counsel of America, the International Society of Barristers, and the International Academy of Trial Lawyers. He functions as an associate at the American Board of Trial Advocates and serves on its Executive Committee. He was also recognized as the Dallas Bar Association's Trial Lawyer of the Year.
Additionally, Carter has memberships in the Honorable T. John Ward American Inn of Court, Honorable Barbara M.G. Lynn American Inn of Court, State Bar of Texas, Dallas Bar Association, Dallas Bar Foundation, Collin County Bar Association, Harrison County Bar Association, and is a member of the National Association of Distinguished Counsel. His other accolades and recognition include being ranked in litigation by Chambers USA and being named to the list of The Best Lawyers in America. He has received an AV* Preeminent peer-review rating through Martindale-Hubbell and is listed on the Top 500 Lawyers in the United States by Lawdragon.
"Across so many years, Leon has left his mark on the legal profession," said Dr. Phil, the television personality and author. "He has left his mark in the courtroom, he has left his mark in the firm, he has left his mark on the community. He is someone that makes every lawyer joke obsolete because he is just the kind of person you want in your life and representing your profession."
Amber Lee grew up in Carthage and first attended Panola College from 2006 to 2009. She later returned in 2018 to pursue an Associate Degree in Nursing and graduated in 2020. Currently, she is a staff registered nurse at UT Health Carthage.
"My favorite memory from attending Panola College was the staff," said Lee. "I always felt comfortable to go to my instructors for anything I needed, even if it was just a pat on the back, a boost to my self-confidence, to pick my brain on certain study topics, or to talk me through a mini meltdown. Panola has staff who care, and I will always be so appreciative for their help along the way."
Lee loves the challenges that each day working as a registered nurse brings, and she strives to give each of her patients the best care possible while meeting their needs. "I strive to go the extra mile because you never know what that extra gesture will mean to someone or how it might affect their life," added Lee.
Lee and her husband, Jason, together have six children. She credits them, along with her husband and grandparents, as a support system while working on completing her degree. She plans to continue her education, and has already begun to study for her Certified Emergency Nurse certification and hopes to begin a program for family nurse practitioners in the future.
Dr. Berri O'Neal, Panola College Alumni Association chair, will honor Carter and Lee with individual awards on May 4, 2023, at the spring commencement ceremonies.