2022
Panola College employees honored with Patriot Awards
Image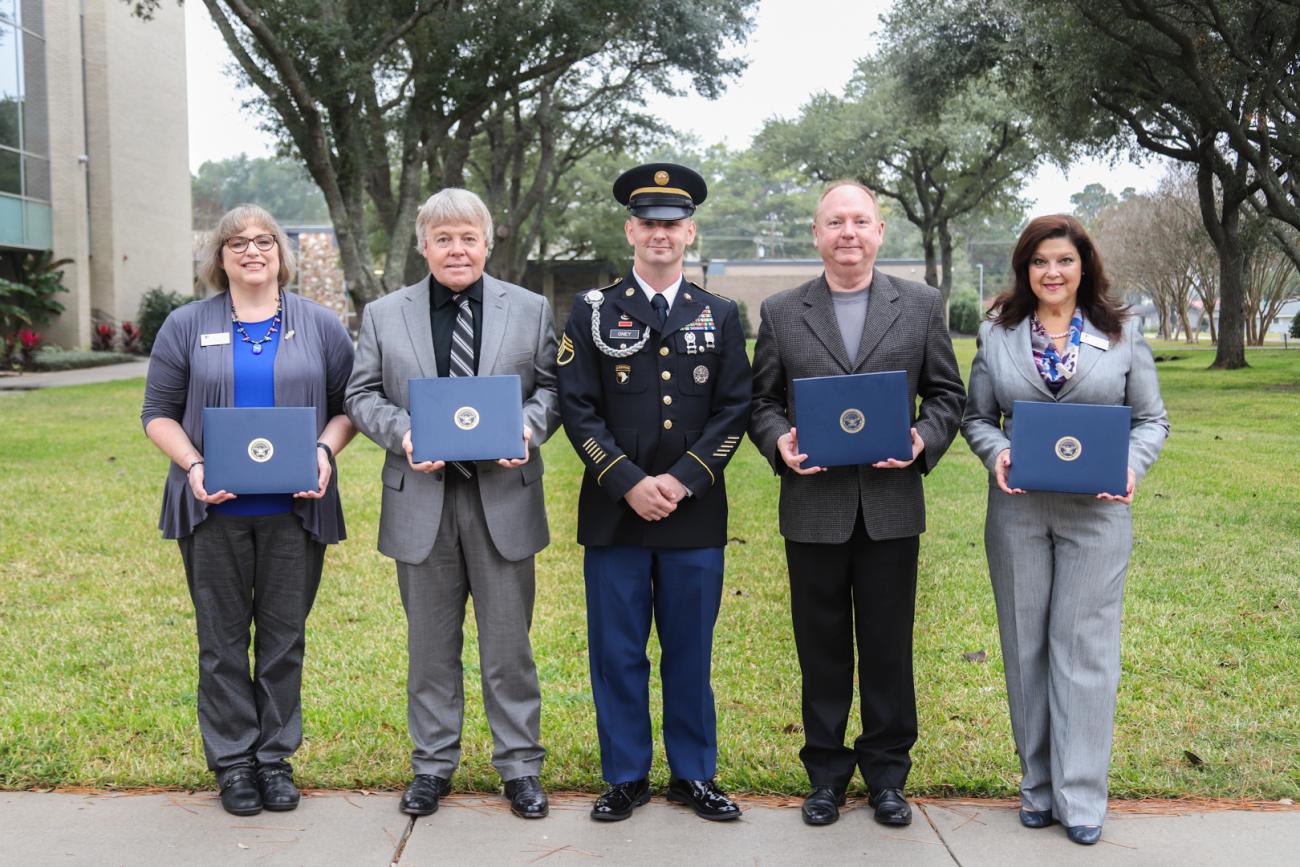 On Nov. 9, 2022, dressed in his official service uniform, Jeffry Oney, an instructor in the Medical Assisting program at Panola College, presented four employees with Patriot Awards, an honor provided by the Department of Defense to recognize employers for their support of servicemembers.
Oney has served in the Army for almost 16 years and is currently an instructor for the 7th Battalion, 95th Training Regiment. He has been deployed to Afghanistan, Iraq, and Syria, and has served as an engineer, medic, and instructor. He joined the faculty at the College in Aug. 2021.
Following remarks about his gratitude for the College's support of the military and servicemembers, he presented the awards to Dr. Gregory Powell, Panola College President, Dr. Billy Adams, Vice President of Instruction, Kelly Reed-Hirsch, Dean of Health and Natural Sciences, and his direct supervisor and Chair of the Medical Assisting program, Lynn Hanson.
"It's overwhelmingly nice to have a supportive staff all the way up," said Oney, who nominated the four employees for the awards. "To work for a place and with people who show their appreciation to service, I wanted to give back to them, so I was extremely happy when all four of these individuals were approved for a Patriot Award."
The Patriot Award reflects the efforts made to support servicemembers through a wide range of measures, including flexible schedules, time off before and after deployment, caring for families, and granting leaves of absence if needed.
"I'm grateful for the opportunity to get everyone in the same room and express my sincere appreciation for everything that you all have done and continue to do in support of myself and other servicemembers," Oney added after presenting each award and personally thanking each recipient.